"When I grow up I want to help people poop for a living!"  Is probably not something anyone would say is their dream job. It is my real job and I am passionate about digestive health, however it is not my dream job. I love to travel, cook, eat and experience new and wonderful foods and of course have a spa day! My dream job would involve being a Spa/Foodie critic on the Travel Channel. I applied once, a long time ago to the Travel Channel for a position similar to that dream. They thanked me and said I wasn't qualified because they wanted someone with a degree in journalism. It did not matter to them that I have been in the "spa" industry for so many years or that I was well traveled, had a current passport in hand and love to eat and cook food.
So, I don't get paid to travel, eat and get relaxing body treatments, but that doesn't  stop me from doing some of those things. I just need to keep it local and affordable for now. Maybe there will be a day when I pack up the Angel of Water, head to Hawaii and open up "Tropical Turds"!
Indy Food Scene
Indy has really hit the foodie scene and I have yet to keep up with all the new trendy spots. My boyfriend and I have a "one new place a month" thing and we usually do a good job achieving that goal. I work a lot and so does he, we are always going in different directions, at different times, and to different places. I sometimes feel like we are characters in the children's book; Go, Dog. Go (1961 P. D. Eastman) which I still have in my vintage book collection from childhood. If you have never read it, it is "Dr. Seuss" style writing. It is about Dogs on the Go and they all end up at a Dog Party in a tree. Sounds a lot like my life…
Some of my Favorite Foodie Spots in Indy:
(FYI I am not paid to mention any of my favorite places. I just like to give kudos to those businesses that I enjoy and I hope they are OK with me mentioning them.)
Ezra's Enlightened Cafe  The owner, Audrey Barron is the real deal. She has done a fantastic job with this little gem located in Broad Ripple. Her food is vibrant and delicious. She sources locally and has her own farm where they grow much of what is on your plate. Her desserts are so good and I love to make a version of her raw chocolate brownie/cookies.
The Loft Restaurant 
This is one of my favorite place to eat. It is located at Traders Point Creamery and the food is also sourced local and Farm to Table. The atmosphere is welcoming and in summer they have events on the lawn. We love going here to eat and listen to music and mingle in the summer.
Some of my Favorite Foodie spots in Paradise:
Brown's Beach House
This gem is located on the Big Island of Hawaii at the Fairmont Orchid on the Kohala Coast. Dining outside is the best seat in the house, you can take two steps and dip your toes in Pauoa Bay between courses!
The Medditerranean Gourmet
Located on the North Shore of Kauai up the hill from Hanalei in a little town called Ha'ena, this is a must if you visit Kauai. The view is unbeatable and the food is wonderful and they have local music. When you walk in you feel like you are a local. I had an hysterical celebrity experience here once. Come over for some tea and I will tell you about it in person!
Tidepools
The first time I ate here I was so captivated by my surroundings. You literally forget you are at a huge resort hotel and feel like you are floating on an actual tidepool! This Hawaiian feast for the eyes and tastebuds is located in the Poipu Beach area on Kauai at the Grand Hyatt,
ULU Sushi Lounge
At the Four Seasons Hualalai on the Big Island of Hawaii's Kona Coast this one is a must if nothing else than for a plate of amazing sushi and the view is unreal. I happened to catch a 106 pound Ahi Tuna deep sea fishing off the Kona Coast one year and I am betting it ended up being sushi at ULU that evening!
Hanalei Dolphin
The restaurant is a go to stop in Hanalei for dining, but I have to mention their fish market. Buying local catch and taking it back to your little beach hut and cooking it is an experience you must try.
I could go on and on but I will stop at Hawaii for now.
Making Healthy Food At Home
(some products in the below photos include affiliate links to Amazon.com)
Going out to new places is fun and trying new foods are even more fun, but I am a cook at heart. I like to know where my food is sourced. This is why I tend to make everything from scratch, to the point of growing much of it myself. I like to change recipes to make them healthy. When I watch recipe videos that are all the rage on social media I often think, "Now if we just replace the white sugar, flour, dairy, etc., with a healthy nutrient dense digestible "real food"…." The other thing that annoys me about those videos is no one I know uses a wire whip to achieve smooth cream cheese!  I mean what the heck! Not that I am above occasionally using cream cheese or sugar, just not very often and then of course it is organic and I use my 35 year old white Kitchen Aid stand mixer to mix that stuff up…I mean really no one has time for the wire whisk technique plus it ends up being nothing but a big ball of cheese stuck in the darn thing and you need a massage afterwards to get the kinks out of your shoulder!
click photo for information on how to buy
I also have a good grip on canning Bloody Mary Mix from my garden, bottling Vanilla for gifts at Christmas and my Garlic Pasta Marinara Sauce is a secret ingredient in a few recipes of mine. It is healthier to eat at home if you can but it is also hard to make that happen when you work full time, or have kids in after school functions or no one is home at the same time.
Several kitchen items are "must haves" to make cooking at home simpler for me and one is an Instant Pot® electric pressure cooker. I have two of them! I make batches of soups, bone broths and stews and freeze for later. French Onion, Gluten Free Minestrone, Broccoli Cheese, and Chicken Noodle soups are just a few examples. You can pop them right from a freezer container frozen  into the electric pressure cooker and have dinner on the table in about 20 minutes or less. I also use my trusty old Crockpot (she is way jealous of my Instant Pot® BTW) and of course a high speed blender like a Vita-Mix® is so very helpful. We make smoothies often and it is great for making your own nut/grain flours.
click photo for information on how to buy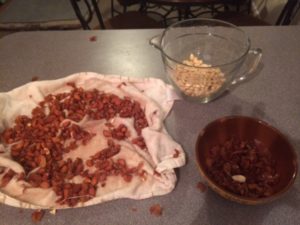 My Blanched Almond Flour Process
I cook in iron skillets, ceramic coated cookware and never ever use anything Teflon coated. I have learned the hard way how to clean and treat an iron skillet and if you leave it soaking in soapy water at my house your are likely to get hit over the head with it! My kids have learned the hard way too!
There are many studies on chemicals leaching into our foods not only from the mass produced growers who use glyphosates, other dangerous pesticides, GMO altered foods, but  also from how we store and cook our foods. Nothing drives me crazier than  frozen microwavable food! They even make ORGANIC frozen microwave dinners in plastic containers…Oxymoron of the first order!! Our microwave (came with the kitchen) is  storage space at our house. Did you know your thyroid gland is like a sponge and it loves to absorb all those chemicals, next thing you know you have all kinds of "auto immune disorders" knocking on your door… that is for another blog.
Summing it all up
I may not know everything, I am sure I have forgotten plenty over the years, but two things I do know,
1. How to eat.
2. How to get rid of it.
Come by and check out all the cool things we have going on here at Aqua Serene Wellness in Carmel Indiana. We offer digestive wellness support, colon hydrotherapy, holistic skin care services, energy therapies, massage, acupuncture, functional medicine, holistic nutrition and health coaching. We have a great group of professionals to choose from.
Disclaimer: This blog is for information only, it is not meant to diagnose or treat any condition or disease. Please seek professional medical advice before stopping or starting any medication or treatment. These are just my own personal observations and experiences and not intended to treat or diagnose.