A Total Health Management Solution for Good Health Everyday!
Summary
The SOQI Bed is a futuristic piece of equipment developed to revitalize and refresh the body. The SOQI Bed incorporates natural therapies and high quality products using a unique "Multiple Energy Approach." Combined with an ergonomically designed massage table bed and spa music, the SOQI Bed is a state of the art approach to relaxation, rejuvenation and vitality! Treat yourself to this out of this world experience and rediscover complete ecstasy and bliss with the SOQI Bed!
Features
Motion Energy – Proper circulation is vital for any living creature to thrive. Motion energy stems off of the concept of full body oxygenation. That is, delivering oxygen to all parts of the body internally so that every cell is functioning at optimal levels. Full body oxygenation can be achieved through cardiovascular exercise as well as our revolutionary heavily researched Chi Machine…
Thermal Energy – All living creatures in one way or another need the sun's rays to survive. We use the natural energy from the sun to power our bodies. Our concept of Thermal Energy utilizes a form of infrared known as Far Infrared. NASA utilizes infrared in much of their research. Hospitals use Far Infrared on babies with Jaundice and other skin disorders. Using the sun's natural rays, far infrared rays, we have developed the HotHouse…
Music Therapy – Research suggests that Music Therapy lowers heart rate, systolic and diastolic blood pressure. Combining relaxing music with Thermal and Motion energies synergize well together offering you the most relaxing experience of your life!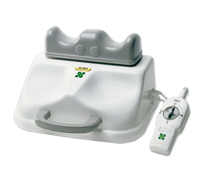 Chi Machine – Since 1990, over five million Chi Machines® have been sold worldwide. The Chi Machine® is a product with over 38 years of extensive research and is designed to oxygenate the body. The Chi Machine has gained a tremendous reputation for its solid construction and outstanding benefits. Unlike many types of medical devices, the Chi Machine® is easy to use, providing excellent results without stress or injury to the body.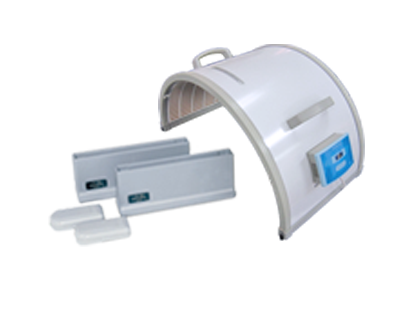 HotHouse – The HotHouse™ produces its unique effect through radiant FIR heat. Its unique arched design enhances the thermal-effect. Experience complete enjoyment and total relaxation. The HotHouse is easy to use and very comfortable making you feel absolutely wonderful! Why are we hearing so many wonderful and positive things from the many devoted users of the HotHouse™? Because the HotHouse™ really works!
Bed Body – The SOQI Bed consists of a high quality superior massage table design. Equipped with three HotHouses with ample room for maneuverability, Chi Machine, user friendly control panel and built in Compact Disc player, this top of the line unit is second to none. The SOQI Bed's unique design features insulated strips to heighten the Far Infrared effect, horizontal handles, two piece bed body, ergonomically designed pillow and user friendly touch control panel.
What is Advanced ERE™?

The Advanced Electro Reflex Energizer (Advanced ERE) is an instru­ment that helps reconnect broken or damaged electrical circuits within the body by stimulating it with the correct wave form, current, and frequency. When there is pain in the body there is electrical resistance, meaning the electrical signals between cells are suppressed. Consistent use of the Advanced ERE can help restore the flow of electricity through the painful area so that circuits remain turned on and healing can be promoted.
Product Advantages:
The Advanced ERE™ is a multi-functional modality that has many features:
Heated footpads to keep the feet warm and soothed by heat stimulation.
The Advanced ERE™ has a single remote control for ease of operation.
The remote control provides four modes of massage: pounding, relaxing, massage and auto-circulation.
Frequencies are set by 2 output buttons on the remote control that allows the user to select the desired intensity level.
The remote control's internal timer can be set at 5 to 60 minute intervals.
E-Power Negative Potential Energy: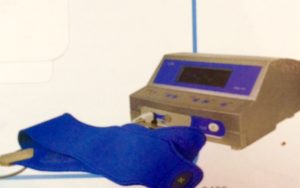 Negative Potential Energy = Energy for Rest
The E-Power was designed to provide Negative Potential Energy (Energy for Rest) with High Frequency Energy (More ATP) Using the body as a capacitor. The E-Power generates 70KHz of high frequency electrical waves, creating internal energy that is designed to balance and revitalize. The E-Power increases the temperature of Subcutaneous tissue in the skin, Negative Potential Energy spreads through out the body, relaxing and creating a balanced electrical field. This service can be combined with the Aqua Mask :Aqua Collagen Facial Mask E-Power Session
Contraindications:
◦ If you have a pacemaker
◦ If you're menstruating  
◦ If you're pregnant  
◦ If you have a high fever
◦ With metallic items such as badges or jewelry
◦ If you have implants of gel or silicon or transplant organs
◦ Heart Problems or tumors
◦ Drink alcohol within 1 hr . 
Remove all electronic items from yourself including cellular phones, handheld computers, games, calculators, etc. You must remove all metallic items such as badges, jewelry or watches.
Recommendations & Precautions:
◦ It is necessary to drink 1 glass of water 1-hour before the treatment and 1 glass of water 1-hour after the treatment. This time frame and the amount of water you drink will affect your results.
◦ People who have kidney problems should not use E-Power.
◦ Please consult with your doctor before starting any new health regimens.
Jin Shin Jyutsu®
Jin Shin Jyutsu® is an ancient art of harmonizing the flow of life energy in the body.
What is a session like?
Jin Shin Jyutsu® sessions are unique and individualized for specific energetic needs. They last about 50 minutes.
On a physical level, practicing Jin Shin Jyutsu® is quite simple. The fingertips are placed (over clothing) on defined areas (called Safety Energy Locks, "SELs") on the body to restore the energy flow which may have been disrupted by mental, emotional, and/or physical stress. There is no massage or manipulation of muscles
During your session, you lie down face up on a massage table, fully clothed. The practitioner "listens" to the energy pulses on your wrists.  The information from the pulses is considered along with observances of your body alignment and feedback expressed by you to determine your energetic needs.   The practitioner places their hands on your SELs in certain sequences to restore harmony to your energetic flow.
Inducing relaxation and reducing the effects of stress, Jin Shin Jyutsu® may help release mental, emotional and physical baggage. Our own, as well as our clients personal experience have noted the positive effects of this gentle healing art – from relief of chronic pain to increased energy and a general sense of feeling "lighter" and happier.
For more information, visit Jin Shin Jyutsu, Inc at www.jsjinc.net.
Jin Shin Jyutsu® is intended to complement, not replace, the advice of your own physician or other healthcare professional, whom you should always consult about your individual needs and any symptoms that may require diagnosis or medical attention and before starting or stopping any medication or starting any course of treatment, exercise regimen, or diet.