Holistic Skin Care Facial Services
By Cindy Aguirre LE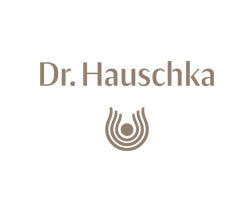 To experience a Dr. Hauschka Facial treatment is to be transformed. Based on our time-proven, signature method of artful touch, each treatment is crafted to work with your body's natural rhythms to transform both inside and out.
The same methods and techniques that form our products also form the basis of our facial and body treatments: By using a holistic, rhythmic approach, we provide stimuli that supports skin renewal and overall well-being. Our Dr. Hauschka trained estheticians use their unique skills to the benefit of your complexion and your whole body, leaving you looking and feeling relaxed, rejuvenated and well-balanced. (from Dr Hauschka Website)
Dr. Hauschka Classic Facial Treatment
Recommended for every skin condition, the Classic Treatment is the original Dr. Hauschka Signature Treatment, from which all others are derived. Your Dr. Hauschka Trained Esthetician will personalize the approach to this treatment based upon your skin's specific needs as well as your desired results.
The Classic Treatment begins with deep relaxation: a warm sage foot bath and gentle stretching movements for the neck, arms and hands. Lavender-infused compresses introduce you to a holistic facial that includes two mask treatments to nourish, nurture and renew. Soft brushes are used to stimulate the skin's natural balancing and regenerative impulses. The result is a radiant complexion and a remarkable feeling of lightness and inner balance. This is an ideal treatment if you are seeking true relaxation and visible transformation, all within 120 minutes/$150.00
Dr. Hauschka Rejuvenating Facial Treatment
Rejuvenation begins with a warm sage foot bath. Aromatherapy compresses, an herbal steam bath and purifying clay mask encourage deep cleansing. Gentle lymph stimulation promotes a renewed sense of well being and a healthy, radiant complexion. A rhythmic conditioner, nourishing mask and soothing décolleté massage complete the treatment, leaving you refreshed and revitalized. 90 minutes/$120.00
Dr Hauschka Targeted Facial Treatments
Relaxing Treatment
Relaxation begins with a warm sage foot bath and moisturizing treatment for the legs, feet, arms and hands. The face is cleansed following warm aromatherapy compresses. Gentle, rhythmical hand and brush strokes stimulate the movement of lymph. Next, your esthetician applies a nourishing mask specific to your skin condition followed by a décolleté massage. Stress and tension melt away, and you leave with renewed energy and a radiant complexion. 75 minutes/$90.00
Cleansing Treatment
Reveal your radiance with this deep cleansing treatment. First, a warm sage foot bath draws energy and stress away from the head. The skin is relaxed and prepared for cleansing with warm aromatherapy compresses. Herb-infused steam softens pores, enabling the Cleansing Clay Mask to absorb excess oil. Gentle hand and brush strokes stimulate lymph movement bringing an cleansing impulse to the skin. Your skin feels fresh, clean and radiant. 75 minutes/$90.00
Clarifying Treatment
This treatment is integral to restoring a healthy, radiant complexion. Aromatherapy compresses warm the skin before cleansing. Herbal steam softens and opens pores in preparation for the deep-cleansing clay mask, which absorbs excess oil. Blemishes and blackheads are visibly reduced. A rhythmic conditioner and appropriate day care complete this effective treatment. Your skin feels soothed, purified and radiant. 75 minutes/$90.00
Customized Skin Care Facial Treatments
The House/Sensitive Skin Facial: $85 one hour/ $55 ½ Hour
Relax with results. Tailored to your skin and its needs, this treatment is meant to produce an outer glow with a little inner peace. The House/Sensitive Skin facial includes cleanse, tone, skin type appropriate exfoliation or enzymes,  mask, refining eye treatment, decollete' massage, and ends with daytime correctives. We use Hale & Hush products which are formulated with Sensitive Skin in mind  (The 1/2 hour treatment is cleanse, tone, exfoliate, daytime correctives and out the door for a quick break in your day!) Add LED (15 minutes) $25.00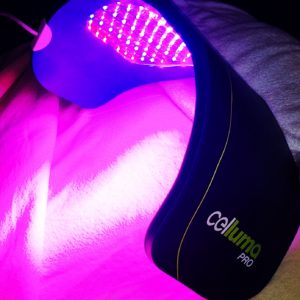 CellumaPro LED
LED (light emitting diode) Light Therapy Mini Facial: $50 for 30 minutes LED, includes Cleanse, Tone, Day Cream and SPF.
The "Stand Alone"  LED only $30.00 for 30 minutes. (client comes with make-up free skin)

LED light therapy is known for its healing and anti-inflammatory properties. The technology has been around for nearly 100 years and is used by NASA to help regenerate muscle tissue and increase wound response and healing time. In the world of dermatology and esthetics, LED's are used to address and treat Acne (inflammatory type), Sebaceous gland disorders, Oily skin and Photo damage (signs of aging skin such as fine lines, loss of collagen and other presentations of sun damage). Just as a plant's cells absorb the sun's energy and use chlorophyll to convert sunlight into plant tissue, LED's can trigger natural intracellular photobiochemical reactions. The results are CUMLULATIVE. This is an extremely gentle yet highly effective treatment option for those interested in less invasive procedures with proven results. It can be added to any facial to help increase desired results or used as a stand-alone treatment. LED Light Therapy is FDA approved and thoroughly researched and regarded by the scientific community. Read more here: http://biophotas.com/light-therapy/
The Aqua Collagen Facial Mask Treatment with E-Power Session: $60.00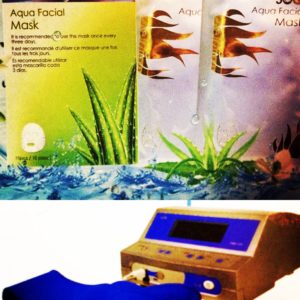 Aqua Mask E-Power Session
This 30 minute relaxing session is designed for dry, dehydrated or stressed out skin. Client will come with clean face or can remove make-up prior to session. The Aqua Mask includes Vitamin B5 and Aloe Leaf extract which revitalizes and cools the skin. Soluble Marine Collagen and Hyaluronic Acid moisturizes and helps reduce the appearance of fine lines. Combined with the E-Power  Negative Potential Energy Machine (Energy for Rest) helps to support the vitality of cell function in the body. (Packages Available) Customized Day Cream and SPF provided at the end of session. For a list of potential contraindications please refer to E-Power Negative Potential Energy
Stand Alone Aqua Mask Treatment also available without E-Power $30.00/ added to any facial service for $20.00

Glow Skincare:
by Brooke Carpenter LE
Website and Appointment information: https://www.vagaro.com/glowskincarellc1
for more information e-mail Brooke at:  brooked215@gmail.com
or call 812-327-9270