My Brain is on Fried Mode: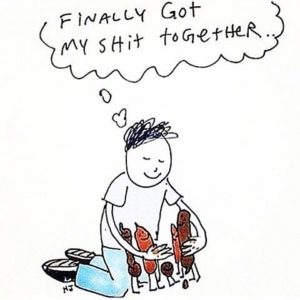 Today while browsing Facebook I saw the below survey posted on several of my friends status. I never fill those out, but I always read them and answer in my mind.  Another rule of mine is I never "copy/paste this status in your time line for one hour to show support for……." or this one gets me too: "I know only my true friends will share this…… and so on".  I have trouble following the crowd. I am a rebel. I take the high road as well as the wild weed infested twisted paths though the woods and through life. I have the cuts, bruises and sticker bush scratches to prove it! 
As a business owner I am constantly trying to keep up with Social Media, Facebook, Instagram, Twitter, and Blogging. I cannot speak about Snap Chat or Musicly (I don't even know if I am spelling that correctly) because I cannot go there without my head exploding! I still have not mastered the new Instagram version of "Your Story" the first time I tried my camera setting was aimed at my scrawled up facial expression, catching me "Live" trying to figure the specifics out and next thing you know it's posted and I had an "Oh $hit how do I delete that" moment.
Onto the blog posting part, the art of trying to produce "engaging content" is hard enough but before you post it there are all these perimeters of getting all the dots green on the SEO optimized check list. It is like trying to decipher the codes to the Universe. Then there are Keywords, Focus Keywords, Meta Descriptions, Character Count and so on and on and on…I am not an IT person, I am just a 1960's  girl trying to navigate my way through the 2017 world of SEO, Blog, Social Media, and Marketing one link at a time.
 So anyhow,  just for fun and a break I thought I would copy the Grown Up Survey from Facebook and answer the questions here. If you are so inclined please share your answers with me or in your head is fine too.
The Grown Up Survey:
(My answers are in all CAPS)
Tired of those surveys made by high school kids? 'Have you ever kissed someone? Missed someone? Drank alcohol?'
Here are 35 questions for Grown Ups:
1.What bill do you hate paying the most?
TAXES
2.Where was the last place you had a romantic dinner?
PROBABLY IN CHICAGO AT QUARTINO
3. What do you really want to be?
A PHILANTHROPIST
4. How many colleges did you attend?
ONE COLLEGE & SEVERAL TECH SCHOOLS
5. Why did you choose the shirt you have on?
IT IS PRESENTABLE FOR MY JOB AND IT IS SOFT, NO SCRATCHY TAGS !
6. Thoughts on gas prices?
I WILL DRIVE 5 MILES OUT OF MY WAY TO SAVE TWO CENTS!
7. First thought when the alarm goes off in the morning?
I NEVER SET THE ALARM, I WAKE UP EVERY DAY BEFORE 6:30 AM, I FIGURE SOON IT WILL BE 4:00 AM TO EMPTY THE OVER ACTIVE BLADDER I HEAR I WILL ACQUIRE ACCORDING TO THE LATEST DRUG COMMERCIAL. I AM GIVING MY SELF A FEW YEARS YET.
8. Last thought you have before you go to bed?
THERE IS NO LAST THOUGHT, MY BRAIN SPINS A MILLION TIMES A MINUTE MOSTLY AT BEDTIME!
9. Do you miss being a kid?
I MISS THE FREEDOM OF BEING A KID, EATING JUNK FOOD AND NEVER WORRYING ABOUT WHAT I WAS EATING. WARDROBE CHOICES WERE SO MUCH MORE SIMPLE, IT DIDN'T EVEN HAVE TO MATCH!
10. What errand/chore do you despise the most?
CHORE: CLEANING THE FLOORS.  ERRAND: GOING TO PICK UP WATER JUGS
11. Up early or sleep in?
UP EARLY
12. Found love ?
THIS IS A VAGUE QUESTION, LIKE "LOVE" IS MISSING OR SOMETHING. I LOVE MY MOM, KIDS, AND BOYFRIEND. I LOVE FOOD, TRAVEL, AND LIVE MUSIC. I LOVE DOGS, NATURE AND THE OCEAN, SO YES I GUESS I HAVE FOUND LOVE.
13. Favorite lunch meat?
NOPE, NOT A FAN, NOT EVEN GOING THERE. HOWEVER I HAVE NIGHTMARES OVER THAT STUFF CALLED PIMENTO LOAF AND SPAM!
14. What do you get at Walmart every time?
A BAD FEELING
15. Beach or lake?
BEACH
16. Is marriage outdated?                                                                                                                                                              OUTDATED NO, BUT CHANGED YES, IT SEEMS TO BE MORE OF A BUSINESS ARRANGEMENT OR A TYPE OF LEGAL CONTRACT THAN A HAPPILY EVER AFTER CONCEPT. THE FAIRY TALE SEEMS FORGOTTEN.
17. What famous person would you like to have dinner with?
THIS CHANGES PERIODICALLY FOR ME, BUT IF YOU ARE ASKING FOR AN ENLIGHTENING AND/OR ENTERTAINING DIALOGUE WITH DINNER, THEN I WOULD HAVE TO SAY GABRIELLE BERNSTEIN, ANITA MORJANI, GRACE SLICK, AND CARROT TOP, IN THAT ORDER.
18. Ever crashed your vehicle?
YES
20. Strangest place you've brushed your teeth?
IN MY CAR
21. Somewhere you've never been but want to go?
THIS LIST COULD BE HUGE BUT FOR THE READERS SAKE: BALI
22. At this point in your life would you want to start a new career or relationship?
RELATIONSHIP….WITH MYSELF FINALLY!
23. How old are you?
56
24. Do you have a go to person?
I HAVE SEVERAL DEPENDING ON THE SITUATION. THE ONE I RELIED ON MOST IS NO LONGER HERE ON EARTH.
25. Are you where you want to be in life?
ALWAYS EVOLVING SO NOPE
26. Growing up what were your favorite cartoons?
JOHNNY QUEST, ROAD RUNNER, PINK PANTHER.
27. What about you do you think has changed since you were a young kid?                                                                          BESIDES MY ENTIRE PHYSICAL BODY, I WOULD SAY
MY SENSE OF ADVENTURE, THE JOY AT JUST BEING IN THE MOMENT AND NOT WORRYING ABOUT EVERYTHING ELSE. THAT PLACE OF BLISSFUL IGNORANCE AND THINKING THE FUTURE WAS GOING TO BE SO FUN.
28. Looking back at high school were they the best years of your life?
NO
29. Are there times you still feel like a kid?
ON VACATION TO THE BEACH, IT MAKES ME FEEL HAPPY
30. Did you have a pager?
YES AND THERE IS A WHOLE SCARY STORY INVOLVING THAT THING YOU CAN READ ABOUT IN MY BLOG HERE
31. Was there a hangout spot when you were a teenager?
WE HUNG OUT AT KENT STATE UNIVERSITY ICE ARENA AND THE PIZZA JOINT ON CAMPUS.
32. Were you the type of kid you'd want your children to hang out with?
YES I SUPPOSE, ON THE SCALE OF LOYALTY AS A FRIEND, I GOT YOUR BACK KINDA WAY.
33. Was there a teacher or authority figure that stood out to you?
IN A GOOD or BAD WAY? GOOD: MR. EILAS MY D.E. TEACHER. BAD: MR. CALCIE HE WAS A JERK.
34. Do you tell stories that start with when I was your age?
HA HA DON'T WE ALL?
35. Are you religious?
NO, I AM SPIRITUAL, BELIEVE IN THE CREATOR, BUT I DON'T FEEL COMFORTABLE WITH THE ORGANIZATION OF RELIGION.
In Conclusion:
It can be enlightening to reflect back and see how answers to questions change with time, perspective and experience. I find things that used to be easy, hard and things that used to be hard, easy. I find that there are moments in life I think I have it together and then there are those Holy Crap I can't figure it out days. Right now I am doing the best I can, which is not enough for some people, probably never will be. When I am frustrated I try to remember and apply this to myself and others in life "if someone is doing the very best they can, even if that does not meet your standards, remember they are giving you their best and that's the most anybody can do." So I may not have the website right, the blog optimized (this one for sure there is only one picture!)  the social media down pact, the marketing strategy laid out but I am giving it my best try and for now that will have to work.
If you feel inclined to leave a REAL COMMENT and not spam please do so. This Blog was written and published by me, the survey was not, I have to credit Facebook with that one. I am going to plug now for the sake of keywords:
Aqua Serene Wellness Located in Carmel Indiana where we feature (along with a sense of humor) Colon Hydrotherapy, Organic Facial Treatments, Dr, Hauschka Skin Care, Massage Therapy, Acupuncture, Functional Medicine, Health and Wellness Coaching, and Energy Therapy.
Come see us!
https://aquaserenewellness.com/wp-content/uploads/2015/11/logo-site-final.png
0
0
Cindy Aguirre
https://aquaserenewellness.com/wp-content/uploads/2015/11/logo-site-final.png
Cindy Aguirre
2017-06-13 18:40:33
2017-06-13 18:57:49
Finally a Grown Up Survey! My Thoughts on Social Media Stuff.