Hi everyone, it has been a while since I posted a blog. I have been buried in my basement under mounds of DIY rehab. Every hour of my days off since January 1st have been spent purging, cleaning, building studs, (with a stud ha ha) hanging insulation, finishing drywall, painting, sanding, staining, cleaning up sawdust, and brick dust (no bad juju happening in our place, brick dust all over!)  In the process I have had to clean Nina, who thinks she is helping and myself who wore all that in my hair and under my nails. Tony and I have built, tore out and rebuilt a back bar area, framed and bricked a fire place, two columns and a wall. We stained and varnished so much wood that I was lightheaded, buzzed and singing along to songs on the radio that I don't even like! Our friend Edgar had some of the best tools that we did not have and graciously loaned them to us. He came over a few of his days off and helped us as well. We are grateful for handy friends! We are at the final punch out stages, flooring, ceiling and trim. We have laughed that we will be using lawn chairs to sit on, literally we have built every single thing, with the exception of an old bar that we have been storing for years. I don't think we have it in us to build furniture too!
There is satisfaction in DIY, along with frustration and appreciation for those who do these trades for a living and those who take the projects on themselves. We have DIY'd our paver patio, kitchen, bathroom(s), floors and Aqua Serene. When we actually remodel our house to make it bigger, I think we will have at least some of it hired out!  One thing we have learned, if you can DIY and not kill each other you have something to hang on too! Remember sharp tools and heavy equipment are readily available!
Things we learn along the way help us in everything we do. I am no stranger to manual labor, I have been a landlord and owned quite a few old homes and buildings that constantly needed work. I have worked in so many different settings; factories, bars, fast food, aggregate hauling and excavating, chiropractic offices, spas, a new age store, and many years in retail. I have taught adult education, anatomy, physiology and massage. I have even worked in the frozen drinks and ice cream machine world. (I am a total Ice Cream Snob) 
That brings us up to this last decade of my working life so far, and well let's just say not many people have dreams of growing up and becoming a colon hydrotherapist! It's a $hitty Job Ha Ha! All my clients are full of Crap! I love my job, I love the chance to help others, the clean up not so much but it is worth it to be able to provide a service that is so helpful, albeit not a subject many talk about, well except me!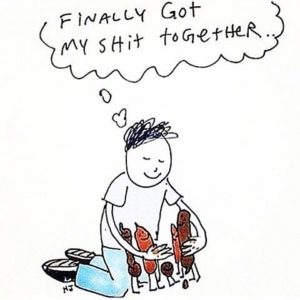 All of my former jobs and experiences have helped me in life. Somedays you ask yourself "what the heck am going through this for?" Then later on down the road the opportunity arises to pull from those past experiences and you say to yourself, "I got this" I get bored easily, I love to learn new things. I can tell you when I DIY anything, fixing my dishwasher, taking the starter off my son's truck with him, making bath bombs, cooking something new, tapping trees for maple syrup, growing and canning food, etc. I appreciate those professions and the people who do these things daily. Bath Bombs are a cussing project btw, no wonder they are pricey! I also thank God for Youtube!
This is brief but wanted to keep in touch and share some of why I haven't been blogging lately. Follow me/Aqua on Instagram and our Facebook page to keep up to date on things we are doing and the final project including lawn chair seating! 
https://aquaserenewellness.com/wp-content/uploads/2015/11/logo-site-final.png
0
0
Cindy Aguirre
https://aquaserenewellness.com/wp-content/uploads/2015/11/logo-site-final.png
Cindy Aguirre
2019-03-15 15:33:23
2019-03-15 16:07:41
DIY Blog